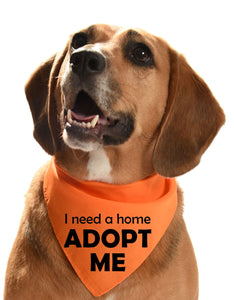 MULTIPACK OF 10 - I need a home ADOPT ME dog bandanas
Are you a small dog rescue looking for bandanas for rehoming dogs? This option is for a multi pack of 10 orange size regular bandanas. They will all come in the "Regular" size which fits most dogs, but if you prefer a mix of sizes just send us an email with your requirements.
Great for:
small charities who don't need loads of bandanas
a trial run of bandanas to see how it affects rehoming stats
an introduction of branded or message dogwear
Available in three sizes. The Regular size fits most dogs as you simply fold over for the best fit then tie around the dogs neck. Extra small dogs should wear the Teeny size. Extra large dogs should wear the Jumbo size.
The fabric is a very lightweight cotton/polyester mix which drapes nicely around the dogs neck. Fully machine washable, and iron on the reverse of the design. Fully hemmed and comes packed in a cellophane wrapper.
---
We Also Recommend
---