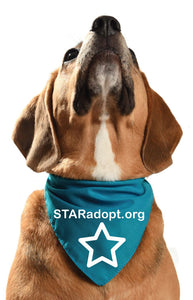 Stronger Together Animal Rescue
20% of the cost of this dog bandana will go directly to the charity :)
Three bandana sizes from teeny pups to giant breeds. The Regular size fits most dogs as you simply fold over for the best fit then tie around the dogs neck. Extra small dogs should wear the Teeny size. Extra large dogs should wear the Jumbo size. 
The fabric is a very lightweight cotton/polyester mix which drapes nicely around the dogs neck. Fully machine washable, and iron on the reverse of the design. Fully hemmed and comes packed in a cellophane wrapper.
About STAR Adopt
Stronger Together Animal Rescue – Charity Registration number 1168941
Dedicated to finding comfy sofas for abandoned, abused and neglected dogs and cats from Cyprus.
Our vision
The humane and compassionate treatment of all dogs and cats by all human beings.
Our mission
To save lives and relieve the suffering of dogs and cats in need of care and attention by the rescue, rehabilitation, and rehoming of abandoned, stray and unwanted dogs and cats in Cyprus.
Stronger Together Animal Rescue (STAR) brings together Trustees and volunteers in the UK and Cyprus to form an animal rescue charity. The team works with shelters and pounds in Cyprus to support the rescue, rehabilitation and rehoming of stray and abused dogs and cats to the UK and ongoing safe and secure rescue back up. 
We commit to:
Promote the humane and compassionate treatment of all dogs and cats in everything that we do.
Never put a dog or cat to sleep unless it is the only humane option.
Provide continued support for all adopters and fosterers in the UK so they can always be confident that the best advice and assistance is always available to them.
Together we can provide even more support for the initial rescue of a dog or cat in need, the continued care it requires whilst in Cyprus and finally the onward promotion and adoption in the UK.
This voluntary group has rehomed hundreds of unwanted stray dogs, puppies and cats that have either been thrown to the streets by 'owners' or have been caught and placed in very basic pounds without any form of promotion to help find them a new home. It is essential that the volunteers do step in to help these animals, because in Cyprus, authorities are permitted to euthanise if a dog if not claimed within just 14 days.
STAR is committed to identifying and helping those dogs and cats in need the most, the ones who are fighting for survival, that have fallen victim to cruelty. But we cannot do this without your help.
Please join us with our lifelong commitment to these dogs and cats by sharing our social media posts, supporting us financially if you can or simply offering us words of encouragement when the odds are stacked up against us.
Our group is strong but together we are stronger. Together we can bring them home.
Facebook: Stronger Together Animal Rescue (STAR) | Facebook
Website: www.staradopt.org
Contact: hello@staradopt.org
---
We Also Recommend
---