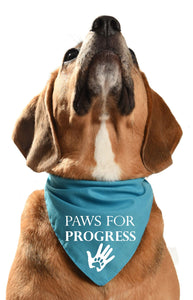 Paws for Progress fundraising dog bandana
20% of the cost of this dog bandana will go directly to the charity :)
Three bandana sizes from teeny pups to giant breeds. The Regular size fits most dogs as you simply fold over for the best fit then tie around the dogs neck. Extra small dogs should wear the Teeny size. Extra large dogs should wear the Jumbo size. 
The fabric is a very lightweight cotton/polyester mix which drapes nicely around the dogs neck. Fully machine washable, and iron on the reverse of the design. Fully hemmed and comes packed in a cellophane wrapper.
Some information about the aims and motivation of Paws for Progress:
Paws for Progress CIC is an innovative and pioneering organisation based in central Scotland.
We are a Community Interest Company (not for profit) aiming to "enhance the well-being of people and animals by promoting and supporting, by whatever means, positive and effective interactions between them".
We see first-hand the incredible and valuable impact that relationships between people and animals can have. We strive towards our key aim through developing and delivering a range of Human Animal Interaction services across central Scotland, including:
- Paws at HM YOI Polmont, the UK's first prison based rescue dog training programme. Running since 2011, we deliver a full-time service that benefits both the young men AND the rescue dogs involved. Our key aims for the young men taking part are to improve behaviour and employability skills, and enhance educational engagement. Similarly, our aims for the dogs we work with are to improve their behaviour and wellbeing, and increase their chances of being successfully rehomed. It really is a win-win set up! We partner with the Scottish Prison Service, Fife College and 12 dog rescue organisations for this pioneering service.
- Paws in the community. We have an excellent staff member and team of trained Paws Ambassadogs working full-time in the community, partnering with organisations including Barnardo's Scotland, local councils and schools providing additional student support. Our team deliver inspiring and fun activities focused on dogs that help our students to build essential life skills such as confidence in themselves and group work whilst engaging positively in education. 
- Paws services for women. We work with women who are most in need of support across a range of settings, including multiple services at HMP & YOI Cornton Vale, HM YOI Polmont and in the community partnering with local councils. We provide therapeutic and engaging activities that enhance well-being, help to build employability skills and enhance engagement in education.
As a small organisation relying largely on grants and fundraising to cover our costs, your help promoting Paws for Progress and enabling our name to be seen as widely as possible is greatly appreciated! We would love to receive photos of your dog wearing their Paws for Progress bandana to share with our followers. Thank you for your support!

You can connect with us online here:
Website: www.pawforprogress.com
Twitter / Facebook: @PawsforProgress
Email: info@pawsforprogress.com
---
We Also Recommend
---