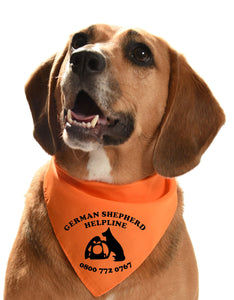 German Shepherd Helpline fundraising dog bandana
20% of the cost of this dog bandana will go directly to the charity :)
Three bandana sizes from teeny pups to giant breeds. The Regular size fits most dogs as you simply fold over for the best fit then tie around the dogs neck. Extra small dogs should wear the Teeny size. Extra large dogs should wear the Jumbo size. 
The fabric is a very lightweight cotton/polyester mix which drapes nicely around the dogs neck. Fully machine washable, and iron on the reverse of the design. Fully hemmed and comes packed in a cellophane wrapper.
Some information about the aims and motivation of German Shepherd Helpline:
 German Shepherd Helpline is a national charity aiming to educate and bring awareness to prevent cruelty and relieve the suffering of German Shepherd Dogs.
*****Wherever there is a German Shepherd suffering, the cause of that suffering can be traced back to a human. Whether it be as a  result of cruelty, neglect, abandonment, ignorance or accident; or whether it be through poor breeding, irresponsible breeding, over breeding, puppy mills or backyard breeding… the end result is that these magnificent dogs will suffer the painful and often fatal consequences. We at the German Shepherd Helpline do all we can to help these beautiful shepherds. Our remit is to save them from unnecessary suffering and provide medical, surgical rehabilitation to heal them and give them the quality of life that this incredible breed so deserves. We also fund behavioural and training. ******  
The German Shepherd Helpline was founded in the memory of Floyd, a GSD that was severely abused, neglected and abandoned on the streets to die alone.
The purpose of the charity is :
For the benefit of the public to relieve the suffering of German Shepherd Dogs by receiving reports of cruelty and assisting other authorities to bring about prosecutions where evidence of cruelty is proven.
We aim to assist the public with small grants for emergency veterinary care if they are experiencing difficulties with unexpected vet fees.

 We offer help, support and advice to owners or potential owners of all GSD's either online, by telephone or by our mobile trainers. There are no set fees for online or telephone assistance or for a personal visit from one of our trainers.
To educate and bring awareness to prevent cruelty.
We are not a rescue charity although, in exceptional cases, provisions may be made to remove a dog from a situation where it is likely to endure further suffering. We will take calls from anyone who needs to rehome a dog. These will be allocated to appropriate rescue centres.
The helpline is run by a dedicated number of volunteers who are actively involved with or own at least one GSD.
 Our aim is to get at least one trainer in every area. Who will help and assist with any problems. The initial visit is free of charge with just a donation towards the charity. Future visits will be determined by the trainer and client. We do help with fully funding clients who are in financial difficulty or at risk from losing their dog.
We are here to help and assist other like minded charities, and if need be, provide evidence which might help to secure a conviction in cruelty cases.
We currently have a Facebook page where we can either offer private advice or general open forum advice.
For further details please contact:
admin@germanshepherdhelpline.com
Website:  http://www.germanshepherdhelpline.com
Facebook: https://www.facebook.com/groups/gsdhelpline/

Charity registration number 1164869
---
We Also Recommend
---