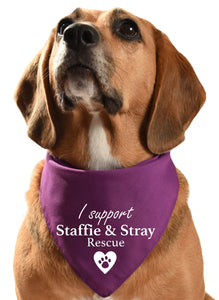 Staffie and Stray Rescue fundraising dog bandana
20% of the cost of this dog bandana will go directly to the charity :)
Three bandana sizes from teeny pups to giant breeds. The Regular size fits most dogs as you simply fold over for the best fit then tie around the dogs neck. Extra small dogs should wear the Teeny size. Extra large dogs should wear the Jumbo size. 
The fabric is a very lightweight cotton/polyester mix which drapes nicely around the dogs neck. Fully machine washable, and iron on the reverse of the design. Fully hemmed and comes packed in a cellophane wrapper.
Some information about the aims and motivation of Staffie and Stray Rescue
Staffie and Stray Rescue is a registered charity (No.  1163631) based in Ferndown (The office) but covers the Bournemouth and surrounding area. The aim of the rescue is to find foster homes and permanent homes for dogs in need of a new home. Staffie and Stray take on dogs whose owners are no longer able to look after them due to unforeseen circumstances. The rescue is seeing increasing cases of abuse, neglect and homelessness. The rescue is entirely volunteer based , however the  small but mighty team does a fantastic job in supporting the Staffies who come in needing their help.
Staffie and Stray Rescue also campaign to help change people's negative attitudes towards Staffordshire bull terriers, who are often portrayed as dangerous dogs in the media. With 75% of stray dogs being Staffordshire bull terriers, we hope to encourage more people to rehome the breed.  The Staffordshire bull terrier is known to have the nickname "the nanny dog" as a result of the breeds affinity with children.
Staffie and Stray Rescue prides itself on being a family run rescue where all family members take an active part in supporting the rescue in all area's such as admin, fundraising, assessing and successfully rehoming dogs.  Staffie and Stray Rescue are there for members of the public who may need advice. The rescue always provides information and advice to those who need it, as well as supporting families who may not necessarily need their dogs rehoming, but need some guidance.
The rescue also works with local dog wardens and the best dog behavioural therapists in the area to ensure that all dogs in need find the perfect home and happy ever after that they deserve.
Although predominantly a Staffie rescue, Staffie and Stray Rescue will never turn away other dog breeds that need their help. 
Website: www.staffieandstrayrescue.co.uk
Facebook: www.facebook.com/staffiesrescue
Twitter: @StaffiesRescue 
---
We Also Recommend
---