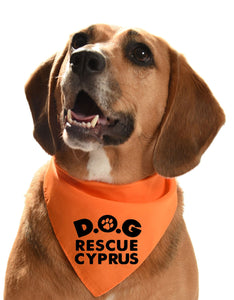 Dali Dog Rescue Cyprus fundraising dog bandana
20% of the cost of this dog bandana will go directly to the charity :)
Three bandana sizes from teeny pups to giant breeds. The Regular size fits most dogs as you simply fold over for the best fit then tie around the dogs neck. Extra small dogs should wear the Teeny size. Extra large dogs should wear the Jumbo size. 
The fabric is a very lightweight cotton/polyester mix which drapes nicely around the dogs neck. Fully machine washable, and iron on the reverse of the design. Fully hemmed and comes packed in a cellophane wrapper.
Some information about the aims and motivation of Dali Dog Rescue Cyprus:
D.O.G Rescue Cyprus (Dali Organized Group) has been in operation since November 2010. Our sole aim is of saving and re-homing the stray dogs of the Dali and Nisou municipality shelters in Cyprus. Municipality shelters can legally send dogs to the veterinary services to be killed if their family is not found or if no one adopts them. The estimated number of abandoned dogs in Cyprus is 170,000 per year. Estimated number of dogs killed every year by the veterinary services 20,000, most of them healthy dogs.
Through our amazing network of dog lovers abroad, in the last 6 years D.O.G Rescue Cyprus has saved and rehomed over 1,000 dogs in Cyprus and (mainly) abroad. We rehomed almost 400 dogs in the UK, Holland, Belgium and Germany in 2015 and plan to exceed this number in 2016. At any given time, there are 120-160 dogs under our care. We receive zero help from the government and municipalities. The legal framework on animal welfare in Cyprus, its weak enforcement and low sensitization of authorities on the issue, make change very slow.
In the meantime, lives need to be saved. Every month, we receive dozens of dumped puppies and abandoned mothers with new-borns that need special and often expensive care to survive. We operate ONLY with donations and your support will help us continue rescuing.
For more information visit our website:
http://www.dogrescuecyprus.com/
or our Facebook page:
D.O.G  RESCUE CYPRUS (DALI ORGANIZED GROUP)
UK Charity registration number 1168941 and CY Registered as a Non Profit Company
---
We Also Recommend
---