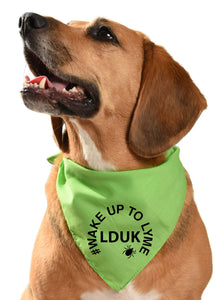 Lyme Disease UK fundraising dog bandana
20% of the cost of this dog bandana will go directly to the charity :)
Three bandana sizes from teeny pups to giant breeds. The Regular size fits most dogs as you simply fold over for the best fit then tie around the dogs neck. Extra small dogs should wear the Teeny size. Extra large dogs should wear the Jumbo size. 
The fabric is a very lightweight cotton/polyester mix which drapes nicely around the dogs neck. Fully machine washable, and iron on the reverse of the design. Fully hemmed and comes packed in a cellophane wrapper.
Lyme Disease UK is a registered charity (1182212) founded by patients. We work hard to raise awareness of Lyme disease and provide support to those suffering from the illness. 
Lyme disease is a bacterial infection, predominantly caused by the bite of an infected tick. We aim to prevent more people from being bitten and help acute cases to be treated promptly. 
Left undiagnosed and untreated, Lyme disease can be a debilitating condition (many symptoms are similar to long COVID and ME).
We are selling these beautiful doggy bandanas to help raise awareness amongst pet owners, who are at greater risk of tick bites. Around one in three dogs carry ticks, and they can be as small as poppy seeds.
May is Lyme Disease Awareness Month, and every year we run a national 'Wake Up To Lyme' campaign. 
This year, we're holding a pet photography competition on Friday 5th May! 
Please join us by purchasing an LDUK doggy bandana and taking a photo of your furry friend! 
Photos can be emailed to awareness@lymediseaseuk.com and there will be a prize for the top dog!
Charity website: www.lymediseaseuk.com
---
We Also Recommend
---